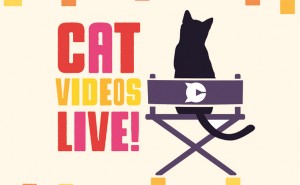 Stray Haven has been invited to be a part of Cat Videos Live! at the Pageant on Sunday, October 8th, from 8:30pm-12:30am.
Cat Videos Live! is a feline film, cat comedy event, and social gathering for all ages. Cat Videos Live! has partnered with CatVideos.com to provide an atmosphere for animal lovers to experience the cat video phenomenon.  Cat Videos Live! is a forum for cat video creators to showcase their cats.  The show is hosted by New York City based comedienne, Carla Rhodes.  Carla is a multi-faceted entertainer who is sure to amuse your family and friends.

Please stop by to see us.  We will have plenty of information, pictures of adoptable cats, ways you can help, cat toys, and Stray Haven shirts. Hope to see you there!
The Pageant
6161 Delmar Blvd.
St. Louis, MO 63112