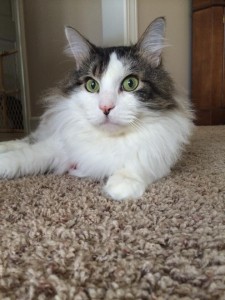 Marcel, the formerly diabetic cat who was returned to Stray Haven after 3 months, was featured this week on Christy's Pet Project.  Christy's Pet Project is a weekly radio program on 106.5, The Arch, featuring animals in St. Louis that are available for adoption and they also video record the appearances.
Read more about Marcel's story and watch the video here: http://www.1065thearch.com/2014/10/17/marcel-formerly-diabetic-cat/
If you are interested in adopting Marcel, please fill out an Adoption Application.