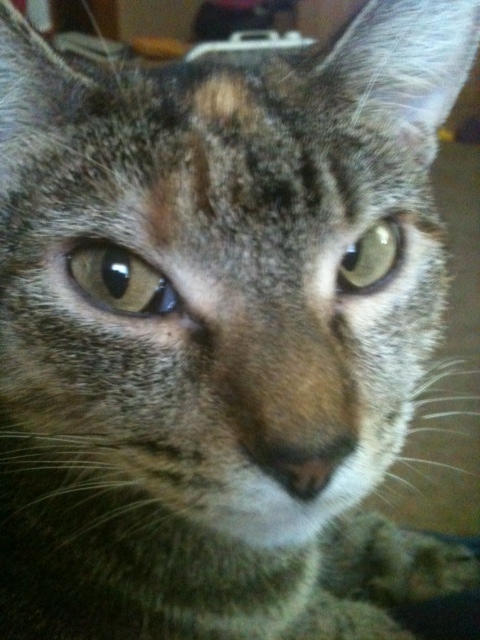 We adopted Nila from Stray Haven Rescue back in March of 2011.  My beloved Tweetus, whom I'd had from the time she was born, died unexpectedly at 10 years of age in February of that year.  She wasn't just a pet, but a best friend to me and also to my husband.  We were both devastated and couldn't think of anything but my grief of losing her.  It was like losing a child.  I knew she wouldn't want me to be this way forever and I knew she would have wanted me to take in another kitty to fill the huge hole in my heart.
I started looking on Petfinder, and none "spoke" to me until I laid my eyes on the image of Nila.  Such a sweet soul.  It was like magic that she looked so similar to my departed Tweetus.  I contacted Dawn immediately and arranged a date to meet her.  Dawn assured me that I could should take her home on a trial basis, and if she didn't work out, we could bring her back, but my heart was set and we adopted her right away.  It was touch and go for a couple of weeks because she was so skittish, but with patience she came around and is now an irreplaceable part of our family.  She reminds me so much of Tweetus, but also has her own endearing qualities.
From the scared little cat she was to the trusting soul she is now, she is in our hearts forever. She saved me from my grief and I can't repay her enough for that.  I hope that her sisters can find their own forever homes.  They are still with Dawn at Stray Haven.  Their names are Millie and Minstrel.  I have included a couple of pictures of Nila and one of Tweetus so that you can see the resemblance.  Thank you so much Stray Haven for all you do for the homeless cats in our area.
Cheryl A. Stewart