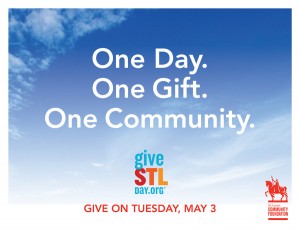 It's on! Once again, we are participating in Give STL Day, which will be held on Tuesday, May 3.
Give STL Day is a big, bold opportunity for us and for our community. A partnership between the St. Louis Community Foundation and nonprofits from across the area, Give STL Day is an online day of giving where nonprofits like ours will be reaching out to our donors – and looking for new ones – as we educate them about our mission and raise operating funds. We raised $1846 last year, and Give STL Day generated a total of $2.1 million for the 790 participating nonprofits.
Help us make Give STL Day a success by making a donation to support us on Tuesday, May 3rd (the donation form below will go live at midnight on May 3):
You have several chances throughout the 24 hour giving period to win Cardinals tickets just for giving to your favorite nonprofit (which we hope is Stray Haven)!
The winner is drawn from amongst all donors for the preceding hour.
Cardinals tickets drawing times:
1am (2 tix)
2am (2 tix)
3am (2 tix)
4am (2 tix)
5am (2 tix)
7am (2 tix)
8am (2 tix)
9am (Special Package: 4 Tickets, Pregame, Batting)
11am (2 tix)
1pm (2 tix)
2pm (2 tix)
3pm (Special Package: 4 Tickets, Pregame, Batting)
4pm (2 tix)
5pm (2 tix)
7pm (2 tix)
8pm (2 tix)
9pm (Special Package: 4 Tickets, Pregame, Batting)
10pm (2 tix)
The first and last donors to #GiveSTL overall will also win 2 Cardinals tickets.
Help Stray Haven Earn Additional Cash Prizes
#GiveSTL offers several additional cash prizes to nonprofits throughout the day, including prizes for Most Unique Donors and Most Dollars Raised. The prizes are awarded based on giving activity during specific hours of the day. Giving during these times will increase our chances of winning these prizes.
Most Unique Donors Micro Nonprofit ($1000)
3:00 am – 3:59 am
9:00 am – 9:59 am
3:00 pm – 3:59 pm
9:00 pm – 9:59 pm
Most Dollars Raised Micro Nonprofit ($1000)
12:00 am – 12:59 am
6:00 am – 6:59 am
12:00 pm – 12:59 pm
6:00 pm – 6:59 pm
Most Dollars Raised During 24 Hour Period Micro Nonprofit ($5000)
All Day (12am – 12am)