We have several cats that are just wonderful with humans, but who strongly prefer to be the only cat in the household. They are part of our Only Hearts Club. If you don't have any other kitties, please consider one of these wonderful feline companions. They all adore people, and some are even good with dogs.
---
HEINEKEN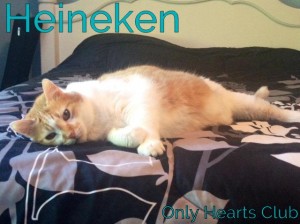 Heineken is a sweet 13 year old (as of August 2016) orange and white tabby. She was saved from the euthanasia list at a local animal control. Heineken adjusted very quickly to her foster home and is doing great! She is a very sweet, cuddly girl who loves belly rubs and to be petted. She likes to bury her head in your arm when she's held…it's so sweet!  She also loves to sleep in bed with her humans and will snuggle right by you.
Heineken gets along with dogs, but would prefer to be the only cat. She would make a great companion for any one that would like a lap kitty to keep them company!
She has had bloodwork done and has no major health issues. She does require a low magnesium/low phosphorous diet to avoid the formation of struvite crystals, but it does not need to be prescription; there are several excellent over-the-counter foods we can recommend.
Heineken is available for regular adoption or as part of our Senior Cats for Senior laps foster program. For more information, please email tammy@strayhavenrescue.org.
---
KARLIE (Declawed)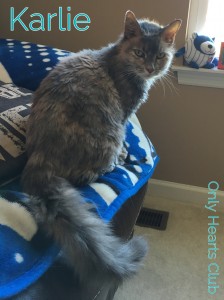 Karlie is a declawed older gal (we think around eight as of summer 2017) with an extraordinarily soft coat who still loves to pounce on toys (she even tosses them up in the air and tries to catch them). She is very affectionate; she loves to give head butts and purrs up a storm, but she does occasionally give love bites to let you know she is enjoying herself. She needs a home with a cat-savvy adopter and without small children. She must be the only cat (we are fairly certain that she is deaf, so she is easily startled and can become defensive).
PS: She gets shaved down one or twice a year due to matting (she doesn't mind general brushing, but won't allow you to get the mats out); her long coat does grow back in.
She is available for regular adoption or our Senior Cats for Senior Laps program. For more info, contact info@strayhavenrescue.org.
---
MOLLY McBUTTER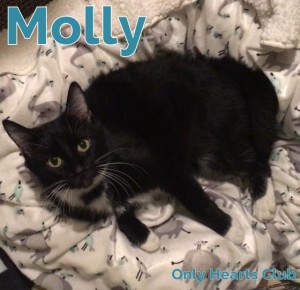 If you want a best friend who lights up when you walk in the room, worships the ground you walk on, and loves you unconditionally, Molly is the cat for you!
She came to her Stray Haven foster after a family split up and left her in a house alone for two years, only coming by to feed her periodically. Due to this, she is very affectionate and craves human interaction (especially laps!) as much as she can get it. Nothing makes her happier than a nap on a warm lap.
She is a young senior, born in 2006, and would do best as an only cat as her affection only extends to humans. Unfortunately, Molly has been diagnosed with cancer; adenocarcinoma in her mammary glands, to be precise. This is because her former owners never fixed her. She is now fixed and her cancerous tumors were removed and the vet doesn't recommend chemo or any other treatment (but the cancer is likely still present). Her vet said she could live another 5 years, but it's hard to predict. As of now, you wouldn't know she has cancer at all. She has the agility of a much younger cat and bears no visible signs of her condition. Her new family would just need to monitor her for new lumps or unusual symptoms which could signify more cancerous tumors.
Molly also had small eosinophilic ulcers on her lips when she came to us. This is a non life-threatening condition that she is now in full remission for; her new family would just need to watch for further lip sores should they return. Since this condition went untreated her first 10 years, she now bears some scar tissue on her upper lips.
We don't think these diagnoses should slow her down at all! She is still more than full of love and life to give to someone and we hope she can find the right person to share her absolute and unending love with. She is available for regular adoption or our Senior Cats for Senior Laps program.
For more information, contact susie@strayhavenrescue.org.
---
PERSEPHONE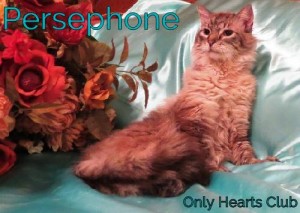 Hi!  My name is Persephone.  I was rescued from St. Louis County Animal Control when my time was up.  I am approximately 5 years old as of July 2016.  I am very sweet and gentle.  Though I get along fine with the other cats in the foster home, I would much prefer to be an only cat or maybe in a home with one other cat.  I would love to have all of the attention to myself.
Persephone is available for regular adoption or as part of our Senior Cats for Senior laps foster program.
If you are interested in me, please email info@strayhavenresue.org.
---
RENLY BARATHEON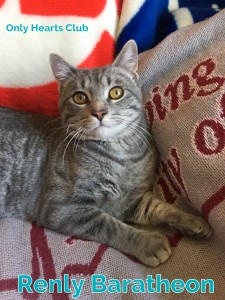 I am Renly Baratheon! I am a grey tabby who is approximately 9 months old (as of May 2017). I am a VERY friendly, chatty, and outgoing fellow who loves to play with toys of all kinds and still has plenty of kitten energy. I am very affectionate and will kiss your fingers as you pet me. Speaking of kisses, that "kissy" noise you humans make is weird and makes me bob my head (it's quite amusing). I do not like other cats, so I need to be an only cat.
For more information, please email info@strayhavenrescue.org.
---
SIR BYRON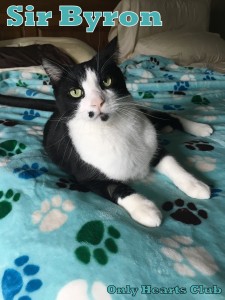 Good day! Sir Byron here; I am pleased to make your acquaintance. I'm afraid I got myself a bit lost in North County and found my way to an apartment complex where I meowed for food and attention from the local inhabitants until two kindly young fellows took it upon themselves to find me some help. I am a young black and white kitty with greenish yellow eyes. Mother would like you to notice what she refers to as my 'adorable pink nose'.
I am a very friendly and affectionate gentleman who loves people and being petted. I will stand up and hug your knee to ask for attention, and I enjoy being picked up and held or laying in your lap. I am a curious fellow and I enjoy exploring and playing. It takes me a long time to adjust to new feline companions (longer than most cats Mother has encountered), and I can eventually get adjusted to some (I am roaming the house with Mother's cats rather than staying in a foster room and am doing quite well), but other cats can really stress me out, so I would strongly prefer to be the only cat. I got along well with a medium sized dog.
I previously had some pesky urinary blockages due to struvite crystals/stones, but I had PU surgery in March 2017, so it is unlikely that I will get blocked again. This is all due to stress (hence my need to be your only feline companion, or perhaps with one other submissive cat). This may never happen again, but just to be safe, I should remain on a low magnesium/low phosphorous diet. It does NOT have to be prescription – there are excellent over-the-counter foods Mother can recommend.
If you would like more information, please contact info@strayhavenrescue.org
Save
Save