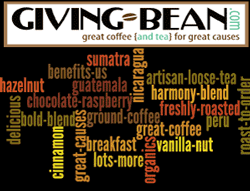 Giving Bean roasts and ships coffee directly to your home or office so you'll enjoy the fresh-roasted difference, but the difference isn't only in the taste. Each bag helps the funding efforts of Stray Haven! We receive 25% of all online sales.
Giving Bean's offerings include:
regular coffee
organic and fair trade coffee
coffees by country
flavored coffee
decaf coffee
single serve/k-cups
green, black, classic, and blended tea
caffeine free tea
organic tea
chai tea
cocoa
shortbread cookies
biscotti
coffee and biscotti gift packs
coffee samplers
coffee club (auto-ship)
Click here to order.