The safest place for your cat is inside your home. Cats are susceptible to many dangers outside, including parasites, pests, disease, toxic chemicals, attacks from other animals or people, and inclement weather. Cats may also become lost. At best, a good Samaritan may find your lost cat and keep him or her, but many times, the cat ends up at an animal control facility where it goes unclaimed and loses its life. Even if your cat has an ID tag and is microchipped, collars can become lost, and animal control may miss microchips.
Here is a short list of the dangers that can be encountered by a cat who is allowed to go outdoors:
1. roundworms
2. hookworms
3. whipworms
4. tapeworms
5. ringworm
6. coccidia
7. giardia
8. fleas/ticks (can lead to hemobartonellosis)
9. ear mites
10. FIV
11. FeLV
12. FIP
13. panleukopenia
14. upper respiratory infection
15. toxins/poisons
16. other animals (dogs, coyotes, hawks, etc.)
17. vehicles
18. traps
19. unsavory people
20. weather
The average life expectancy of an outdoor or indoor/outdoor cat is 6 years, while that of a cat who remains indoors is 12-14 years. Many indoor cats live to be 20 or more!
Alternatives to letting your cat freely roam outside:
Put up a kitty window seat in a favorite spot for bird watching.
Install a garden window so they have a place to lay that makes it feel like they are somewhat surrounded by nature. These can be real glass garden windows or one designed specifically for a cat's pleasure. They can be glass or screened in to let your cat enjoy the fresh air.
Allow kitty to enjoy your sun room or screened in porch.
Build a catio (a patio for cats). This can be as simple or elaborate as you'd like it to be. If you want a nicer looking one that ties into your backyard decor, this would be a great use for that leftover material from building your deck.
Train your cat to walk on a harness and leash.
Take your cat for a walk in a pet stroller.
Remember that if your cat has any direct exposure to the outdoor elements, he or she will need monthly flea/tick treatments, heartworm preventative, and deworming.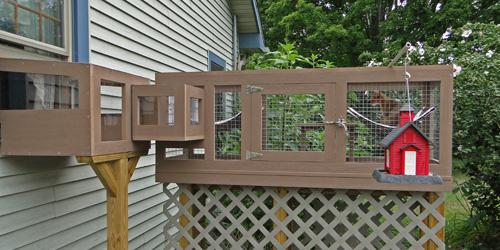 Save