Hello, friends! We could use your help with some vet bills for two very special kitties!
Charlie developed a severe inner ear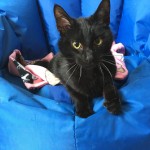 infection that has altered his sense of balance so much that he cannot currently stand or walk. His foster mommy changes the pee pad and blanket in his bed several times a day, as he cannot get into a litter box. He doesn't eat unless his foster mom gets him to keep his front half upright and puts the bowl right in front of his face. He is on several medications, and we hope that with time, the ear infection will subside and he will regain the ability to stand and walk. If not, we will have to consult with a neurologist.
Sir Byron has so many struvite crystals in his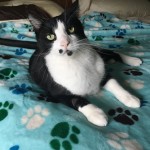 bladder that it looks like a snow globe! He has had a urinary blockage (or has been on the verge of one) at least three times, and he had a cystotomy to clean out his bladder not long ago. He will be having PU (perineal urethostomy) surgery this week; this should prevent further blockages, as he should be able to pass crystals and small stones. What he needs most is an adoptive home with no other cats (or maybe a submissive cat), as stress is the root cause of this issue for him.
The vet bills for these two cases are going to run AT LEAST $1285.
Thank you so much!