In January 2015 my entire world came crashing down.
My beloved cat of 12 years, Ross, was suddenly and unexpectedly battling aggressive lymphoma. Of course I chose treatment for my best friend. But the chemo did not work. Nothing worked. He was suffering badly and could not breathe, fluids building in his lungs, and there was nothing the vet could do but, with my permission, end his suffering. He died with my face and hair buried in his side, my tears soaking his fur. He succumbed to the cancer less than a week after his diagnosis. My head spun with the suddenness of it, how fast I lost him, one moment he was fine and the next I had nothing but a small box of ashes, a bag of whiskers, and a ceramic paw print left. I could not get my mind around anything that had happened. WHY?? HOW?? What is death? Where is my friend now, his feelings and his mind? What is death really like and what happens to us after that? I cried so much I thought for sure that I would float away on a river of tears.
I was so devastated that I took time off of work, and I chose to talk to a therapist to help me cope. Much of my identity was wrapped up in Ross; it was he and I as a package deal. I was never without him and he was never without me. I saved him when he was only 5 months old, and he was by my side the rest of his life; no matter what came my way, he was there. I went through divorce, a series of bad boyfriends, medical scares, moving, and a new relationship that led to marriage, but I always had my sweet boy through everything. He slept on a pillow next to mine or tucked under my chest under the covers. We had a routine and a deep understanding of each other, a connection I had never experienced with anything or anyone else, human or animal – I used to call it sympatico. I've never since come across a cat that purred as much as he did. I've also never loved another creature like I loved him. His loss left me drowning and bereft. Like a child, I started cuddling a stuffed cat my late mother had given me when I was 16 because the shape of it was somewhat catlike and thus comforting – it had lived in the basement forgotten and now was retrieved for the special job of helping me through loss. I did not care if my husband thought I was ridiculous, though he didn't. He even finally named the cat Subby as in, substitute. I thought it was funny and the name stuck.
Losing Ross I learned that irrational behavior and searching for the lost loved one are legitimate hallmarks of grief, which I did not know before. I logged into every single cat adoption website I could find in my area, looking for Ross's face. I never did find it. Through curtains of tears I looked endlessly, but he was never there. For months I did this, compulsively. Petfinder was my #1 visited site. I didn't find Ross, but I did find was that there were so many beautiful cats that desperately needed homes and some with very sad stories. And now I felt guilty too. At once I wanted all of them and none of them.
I tried to volunteer with a cat rescue shelter, thinking I could meet my next cat AND give back. I reached out to schedule times I could come help but none of my free times ever seemed to work for them despite the fact that I was working only 20 hours a week at the moment with my company. I was allowed to meet some of their cats but none was Ross; I got mauled a few times in the process. It was hurtful that they didn't seem to want me there, which compounded my grief. I gave up and let my scratches heal.
Weeks later I saw a lovely young male tabby, somewhat like Ross, over in Illinois. I went to meet him. He mauled me. My heart broke. I asked to meet another male cat they had who was devastatingly beautiful but he mauled me too. I cried all the way home.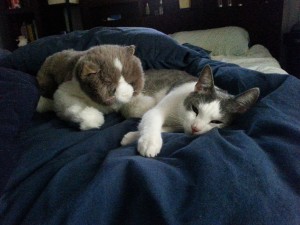 One day I was surfing and found the funniest picture. LUCIANO, it said. Luciano didn't look like Ross, but had an endearing dot in the middle of his nose and looked my beloved stuffed Subby cat. Same colors and pattern. I sent the posting to my husband and noted that this cat looked like my stuffed cat. We both had a good laugh about it. A month later, said email forgotten, I submitted an adoption application for a different cat who, fortunately, was in Stray Haven's possession, the same rescue who had Luciano. After fostering that kitty (who, of course, was a brown tabby like Ross) for a short period of time and not bonding with him the way I wanted to, my Stray Haven foster mom convinced me to take Luciano home with me. She was convinced that he was the kitty for me. "He is a calm and loving spirit," she said. "He is the kind of cat who can really help center a person," she said. Those words really resonated with me, as my soul was so empty, looking for a cat that could fill it just right. I wanted to be centered. Calm and loving was what Ross had been.
So I traded. Admittedly, and this is a little embarrassing, when I first got a good look at Luciano, despite his cute pictures and nose dot, I didn't think much of him. Slightly rotund and shedding, with random gray and white patches and somewhat unsettling bald spots on his head from a dog attack that happened before he was rescued, he wasn't the glossy striped big eyed looker my Ross had been. His pictures had been cute but he seemed a little…shopworn maybe?
Unsure, I put him in the carrier and took him home.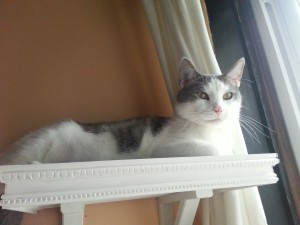 In the following days, he proceeded to show his helping side. He was definitely an assistant cat, "helping" me unload groceries (by crawling into the grocery bags once they were empty) and lending a helping paw with the laundry. He helped me cook. He helped me type. He helped me shower. He virtually never left my side. We played with toys and strings and his antics were so funny my husband I could not stop laughing. Ross had been elderly but Luciano wasn't, and he had a high jump unlike any cat I had seen which we certainly get a huge kick out of. We chuckled at the hilarious way he sat, with his front legs slightly bowed out at the elbow like a little bulldog. And neither of us could get over that adorable brown-gray dot perfectly centered on his big pink nose. What a special guy, we decided. He's pretty unique and fun. Life suddenly became a little more colorful now that he was here.
Luciano let me hold him and cuddle him and squeeze him and kiss him and he never, ever lashed out. He purred on my lap and crawled under covers with me, and lapped at my toes in the morning when he was hungry. He NEVER leaves my side.
I fell in love again.
Now, with individualized attention and a home and new parents all his own, Luciano, now dubbed Subby after his stuffed doppelganger, has a glossy coat and his bald patches are now beautiful to me, I love them and I think they make him look all the more special. I kiss them and nuzzle the top of his head when I hold him close. I just cannot get enough of this sweet and wonderful cat, and when he sleeps next to me at night, my heart feels full and happy again. He's not super thrilled when I grab his face and kiss his nose, but I think he is getting used to it. I still miss Ross all the time, but I believe he would approve of his successor who was not the slightly motheaten alley cat I first thought he was, but a beautiful big sweet tom with an enormous love for everyone he meets and, indeed, a calm and gentle spirit that has helped center a person.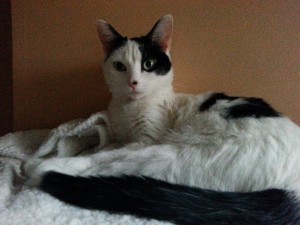 But I knew Subby, being a young cat, needed a friend to play with. I knew he needed the exercise that another cat could give him through play as well as having someone of his own species to be with. So I went back to Stray Haven to find the right partner for him. I tried another adult male but that poor kitty didn't understand Subby's brand of wrestling. It was very hard to choose someone! I tried a small female with him instead, a little lady kitty who curled up in my arms and purred as soon as I met her. She and Subby hit it off right away and are now partners in crime – the first time they were fully allowed around each other, they chased one another and wrestled as if it were the World Wrestling Federation championship and the fact that Subby is a substantial 13 lbs does not stop her for even a second! When I brought Helena home, I couldn't stop calling her Tiny because she is so small. I searched and searched for a special name for her, but Tiny just stuck. At only 6 lbs, she is the smallest adult cat I have ever had and for her size has an enormous purr, and tends to meow with her mouth closed which produces an hilarious whiny sound. She might be the most charming little cowcat ever.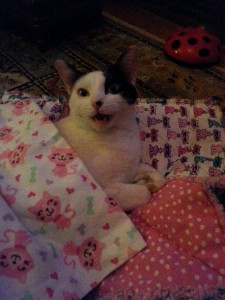 She bit me a lot when I first brought her home, bites that seemed like a baby cat biting her mother on the side to get milk. She bit HARD but was so small she couldn't do much damage. She grew out of that like I thought she might and now she likes to crawl up on my shoulders and wrap her tail around my head, purring LOUDLY the whole time. She washes my face and LOVES her tent and tunnel toys pretty much more than anything – besides boxes and her toy mice which she carries around in her mouth and leaves on the stairs. She also likes to steal packages off the kitchen counters and leave them on the floor for me. I recently read Samantha Mooney's "Snowflake In My Hand" and couldn't help but think of Tiny when she wrote about her cat The Fledermaus. She is a loving, silly little scrap and I love her!
Subby and Tiny are always playing and when they aren't tussling over who is in charge, they are curled up together in each others' space. There isn't a day goes by where they don't make me laugh with their silly antics. There isn't a day that goes by that they aren't purring and there isn't a day that goes by that they don't bring me endless joy. I love them! And I wasn't sure if I would love another cat again. When I am at work I think of them and can't wait to get home to be with them.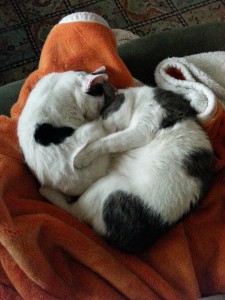 Losing Ross hurt so much but my two new Stray Haven kitties have done so much to heal my pain that I tell everyone I know…ADOPT A CAT!!! Stray Haven can help you find the one for you.
~ Amanda H.