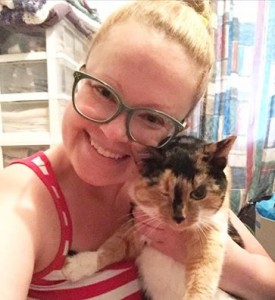 I was raised in a household that taught me to never trust a human being that does not like animals. My parents took care of our many animals as well as they did for my brother, sister and me. We have never made a dog or cat stay outside. In our minds, that is cruel. We want to love on our animals and make them comfortable. They give us even more love and comfort in return. Life is about loving all of God's creatures.
Two years ago, my parents adopted a yellow Labrador Retriever named Sam whose owner had a massive stroke. The owner was my Aunt Linda's neighbor and she knew that my parents would take him in. All she had to do was call and my parents were over there to pick him up. Sam has been a blessing in countless ways. He is my recently retired dad's best friend, the one who keeps him from getting lonely on long days when my mom is at work. He was also another reason for my dad to stay strong during a health scare over this past winter. Before each major surgery, I told my dad to stay strong for Sam. I truly believe this was a big help, as my dad is doing wonderful and I am thankful my dad and Sam are still very happy together. Animals are therapy.
This past spring was a trying time for me. My safety was taken away due to an incident with a neighbor. Many sleepless nights caused me to have the worst anxiety and depression I have ever experienced. I finally found a new place to live and the big moving day was Sunday, June 12th. I did not have any animals at this time and had planned on adopting a cat once I was settled in. My Aunt Linda, the one who paired up my parents with Sam, was on the hunt as soon as she heard. She was at Petco off Telegraph during my moving weekend and saw the most beautiful two year old cat named Emily who was ready for adoption through Stray Haven. She asked me if I would be interested and I said of course, but I just couldn't get her until I was moved in. She kindly paid for Emily's adoption fee to hold her for me and I went to pick her up on that Monday.
June 13th was one of the happiest days I have had in a long time. I was in a safe new home and I had a beautiful calico cat whose name I changed to Pearl. She was a little shy at first, hiding under my bed a lot. After the third day, she began feeling comfortable with me. She laid on my lap, which is her favorite thing to do now, and I rubbed her belly and chin. She instantly fell asleep on her back, so peacefully. I felt so good that she felt safe with me and I could provide her with a loving home. She was found at the age of twelve months in a cat colony by a catch and release/spay and neuter group. Since she had such a great personality for a feral cat, they contacted Stray Haven, the wonderful organization who I adopted Pearl from. Her foster mother was so nice to let me take her home the day I met her. One of the many things I love about Stray Haven is that they are pretty strict with who they let adopt their animals. They want them to have the best life possible.
Pearl became the Queen of her home the first week in our new home. I am so happy with my life right now. I have a home that I feel safe in and a cat who talks to me as soon as I walk in the door after a long day at work. After I feed her, she must get her cuddle time. I am head over heels in love with her. I love her nose, the way she uses her paws and stretches them out, her cute voice, the fact that she expects kisses from me every time she sits on my lap and then a belly rub to follow, she sometimes wakes me up massaging my temples, she is usually looking out of the front window when I pull up to my house, she is photogenic; I could go on and on. She is my best friend for life. I can't thank my Aunt Linda and her foster mom, Becca, enough. I have not experience any anxiety or depression since I brought Pearl home. Just like Sam is for my dad, Pearl is my therapy. My world revolves around her.