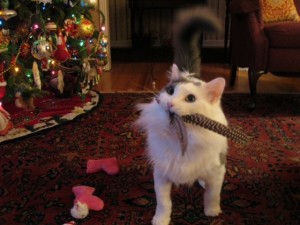 Have you ever seen such a contented, smiling face (or a kitty who prefers to sleep on their back as much as I do)?  My name is Olivia, and I am a happy, happy girl and love my new forever home and mommy soooo much!
I didn't have a happy home in the past, sad to say, and had an awful name which I won't repeat here but it starts with the letter, "O" and is the name of a dead terrorist.  The name alone is your first clue as to how I wasn't valued.  My original family did not take very good care of me.  They took away all of my claws (even the ones on my back feet) and I developed crystals in my urine and then a bladder stone that required surgery, both of which could have been prevented with proper food.  After that, they wanted to have me euthanized – can you imagine?  Luckily the vet techs took control and got me to the safe and loving care of Stray Haven.
My Stray Haven foster mommy was so incredibly wonderful.  She is a genius about crystals and nutrition in general and got me started on the proper food.  She ditched my terrorist name for the name, "Ophelia," gave me lots of love, attention and brushing, and I knew things were looking up.  Stray Haven put my story and a bunch of photos of me on their website and took me to a couple of adoption events.  Coincidentally, my mommy-to-be was searching for a kitty to join her family and, when she read my story, she just knew she had to adopt me!  Lots and lots of emails were exchanged, and then my new mommy drove from Nashville to Stray Haven to pick me up.
She thought I was more of an "Olivia," and the name suits me beautifully.  I had no idea I was in for a long car ride that fine fall afternoon, but I took it in stride and was AMAZED at all the toys and catnip that welcomed me to my new home.  I got more toys at Christmas too – if you haven't experienced "Da Bird," you have to get one – I play with it every single day. I'm just obsessed with it (luckily there are replacements for the bird part – I'm super good at catching it and destroying the feathers)!  I'm also quite fond of the "Lil Pink Sock" stuffed with catnip from Mutts.com and the catnip candy cane I got in my stocking.  I have big window seats to lounge in and watch the wildlife, a fireplace to warm me in winter (it's soooo toasty!) and all the comfort I could ever want – who needs cat beds, I sleep with mommy!  I have a really neat Pioneer Pet Raindrop ceramic fountain of fresh, filtered water to drink (another recommendation from my foster mommy, got to keep those crystals at bay!)  I've even become quite the champ at riding in the car – it's not my favorite and I do throw out the occasional "yodel," but I'm always very good.  Mommy brushes me every day – boy, do I love brushies!  My mommy says I'm the sweetest, cuddliest girl EVER and she is clearly as devoted to me as I am to her.  Her iPhone is simply loaded with photos of me, and I frequently appear on her Facebook and Instagram pages.  All my mommy's friends say I'm the softest and most gorgeous kitty they've ever seen and say how happy they are that I joined the family.  My new vet, Dr. Ladd, is wonderful to me, was astonished at my previous situation, and promised he would always make sure I had the best of care.  What more could a kitty want?
Thank you, thank you, THANK YOU, Stray Haven for helping me find my forever home.  We're both eternally grateful to you for helping us find each other!