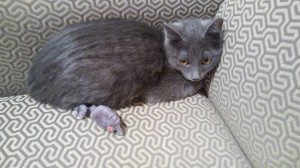 We have a 10 year old male pixie bob, Rufus, and last summer adopted a male kitten, Milo. While we have enjoyed getting to know our energetic kitten, the senior Rufus was exhausted from Milo's playful personality and boundless energy. We began looking online for a new companion for Milo, thinking a young female cat would be a good match. After checking several sites online, we saw that Mauhaus would start partnering with Stray Haven, and so checked the site to see availability. There was a girl that fit our wishes with a beautiful Russian Blue coloring.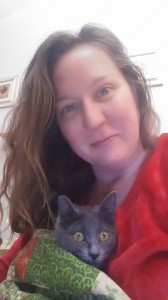 We contacted her foster dad, Mark, and after reviewing our application, he came by for a home visit and brought then "Temptress" to meet us. She was very shy, having had a feral mother, and VERY tiny! After some discussion with Mark and holding her, we quickly decided she would be a great addition to our family. After Mark said goodbye, she promptly hid, then slowly moved into a comfy carrier in the living room where she observed our household the rest of the weekend.
Now she has her own space in a bedroom while the new brothers get to know her, and allow her to fully trust humans. Now named Minnie, she is coming along great! She will sit with us for short periods at a time, sometimes letting a purr of contentment out, and loves to be brushed. We are happy to have Minnie, Milo, and Rufus in our house for years to come!  It was a great experience working with Stray Haven and Mark, thank you!
~ Jennifer O.