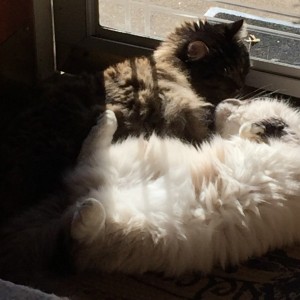 Our Stray Haven cats rescued us in February and March of 2015. Fabian and Finn had not been treated well prior to coming to Stray Haven, and once they were surrendered by the former owners, they had to have treatment to become healthy. Fabian was just plain neglected, and Finn actually had to have life saving surgery.
We had a current rescue cat of 17 wonderful years, but Herman's eyes were dimming. He was the only pet our child with Asperger's ever knew. Our concern was, "How will this work with two new cats entering and one passing away?" I was so pleased with our choices, and the two week foster-to-adopt trial was wonderful to make sure everyone bonded. Both of our cats are like brothers and we are one big happy family.
If you ever consider a donation for a pet in need of surgery or adoption, please consider Stray Haven. Donations made it possible for our cats to be treated and placed in our loving home. We are truly blessed.
~ Donna M.