We adopted these amazing boys at the end of November. They took a few days to get the lay of the land and get comfortable in their new home. Once they did? They had both my 6 year old son and I wrapped around their little paws. They quickly forgot what personal space is and would use your head, shoulders – really, whatever part of your body was available, as their own personal pillow.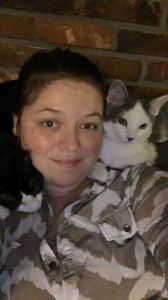 Flash (formerly Tater Tot) is very adventurous. I constantly find him on top of the TV stand, on the counters, and jumping all over the place. While he was the bigger of the two (and two weeks younger), he is now smaller than his brother. He is a serious lover and doesn't know a stranger. His claws never come out, and as soon as you sit down, he is in your lap.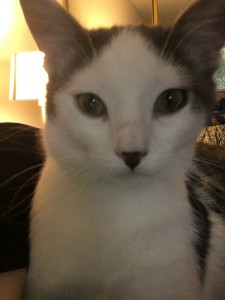 Arrow (formerly Pancake) is my very vocal boy. His food bowl is empty? You better believe he will let you know! He thoroughly enjoys a good snuggle. He thinks sleeping like a baby in my arms is the best way to pass the time and will follow me to my room for bed as soon as I turn the lights off. He's also a little more skittish. He lets his brother take the risks and just hangs out on the side lines. He takes a little longer to warm up to strangers, but usually after about an hour, he warms right up and is ready for some snuggles. He is now finally bigger than Flash.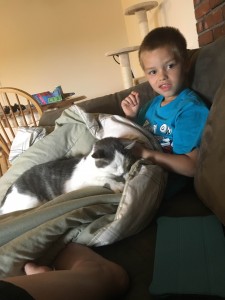 They have both been a perfect match for our little family. It's hard to remember a time when they weren't part of our family. Thank you, Stray Haven Rescue, for getting these boys to our family!
~Jennifer B.